Boiling Springs, SC Real Estate
Boiling Springs, South Carolina is located between interstates 85 and 26, and it's just a hop, skip, and jump away from North Carolina. It is in a prime spot for popular places in South Carolina (Columbia), North Carolina (Charlotte), Georgia (Athens), and Tennessee (Gatlinburg), no trip being more than two and a half hours away. With a population of a little over 8,000 people, it is not the biggest city in South Carolina, but it certainly is not the smallest, leaving plenty of homes for sale in Boiling Springs SC up for grabs.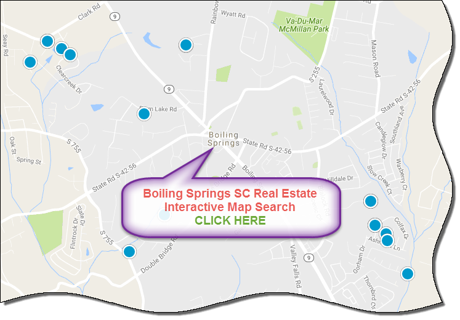 It is part of Spartanburg County, where the city of Spartanburg, South Carolina is just a 20-minute drive away. Spartanburg boasts many kinds of events and activities for all ages and interests. Outdoor enthusiasts can choose from Hatcher Garden and Botanical Preserve, or they can just check out one of the many parks around. Sports enthusiasts have plenty of recreational complexes and clubs at their disposal, and car lovers are just a short drive away from the BMW museum where, on top of checking out the cool cars on display, they even have a chance to see how the cars are made.
In such a convenient and popular location, you are sure to have a chance to always make new friends, but it is almost certain that you will run into a familiar face or two. If the comfort of old friends and the excitement of new ones all in one outing seems ideal to you mixed with a convenient location for work, school (Boiling Springs is part of Spartanburg District No. 2, which is ranked in the top 25 districts in South Carolina), or recreational activities, then start searching homes for sale in Boiling Springs SC.
If you're looking to buy or sell a home in the Boiling Springs area, contact the PRODUCER Realty expert real estate team at 864-438-5050.