Clemson SC Real Estate
A university town, Clemson SC in Pickens county is home to just over 14,000 residents. In addition to Clemson University, the city offers such activities as the South Carolina Botanical Garden, and the Bob Campbell Geology Museum. Plus, the Blue Ridge Mountains are just a 30 mile trip.
There are many things to do in the surrounding areas, and nothing is more than an hour's drive. Greenville is 45 minutes away and Spartanburg is a little over an hour away. Lake Hartwell, is of course, is right near the city, no more than 10 minutes away. Lake Keowee is 15 minutes away, Pine Mountain, GA (the actual mountain, not the town) is an hour away, Gorges State Park, NC is an hour away, and Oconee State Park is just 45 minutes. For such a perfect location, there are perfect homes for sale, too.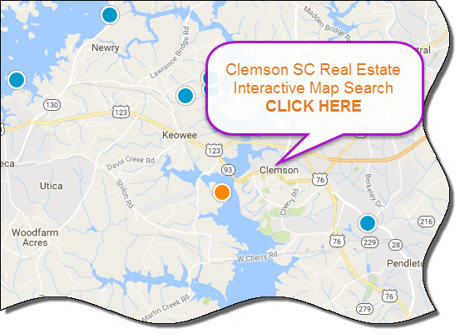 The city of Clemson is part of Pickens county school district, a district that is rated in the top 25 for multiple categories against multiple districts in the state. Other than the obvious Clemson University, the city of Clemson is within a 40-mile radius from numerous nationally recognized and accredited universities and colleges.
Clemson SC may be mostly a college town, but it's focused on its residents just as much as its students. Clemson prides itself on a sense of community, and works hard to maintain its values. Whether it's work, family, school, or play, Clemson has something for everyone, including the perfect home. There are a variety of homes for sale in Clemson that will fit every family size, wallet, and style preference
If you're looking to buy or sell a home in the Clemson area, contact the PRODUCER Realty expert real estate team at 864-438-5050.