Pendleton SC Real Estate
Pendleton is a charming historic town located in Anderson county, just minutes from Clemson University and a population of just over 3,100. Founded in 1790 on former Cherokee land, aristocratic low-country plantation owners and politicians began building their summer homes in this area. Pendleton is listed on the National Register of Historical Places, with several buildings and homes monumented as historical sites.
Since Pendleton is en route to Clemson SC, it's hard to not be taken in by the town's charm and coaxed to visit the local restaurants and shops. The history of the town will engage you, and the sense of community will convince you to stay. With plenty of homes for sale in the area, staying won't be a problem.
While Pendleton is charming all in itself, it is convenient to know that it is not far from the bigger, bustling cities in the state such as Greenville (45 minutes) and Spartanburg (a little over an hour). However, it is only 30 minutes away from the city of Anderson, providing residents a chance to get to know their county a little better. Pendleton is also less than an hour away from Lake Hartwell and 30 minutes from Lake Keowee.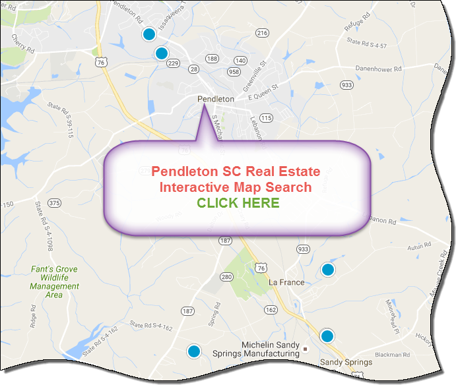 Pendleton is part of Anderson County School District 4, which is ranked in the top 20 for best districts in the state. It falls in favorable places for other rankings in the state as well, such as best districts with academics, and college readiness.
Pendleton is also within a 30-mile radius of several nationally recognized and accredited colleges and universities.
With tons of events and activities for the whole family, a great school district and secondary education opportunities, short commute time, and plenty of job opportunities, what could be better than moving to Pendleton? The town has plenty of homes for sale to fit any wallet, family size, and style.
If you're looking to buy or sell a home in the Pendleton area, contact the PRODUCER Realty expert real estate team at 864-438-5050.